If there's one thing a pet owner knows, it's that four-legged friends are part of the family. And if there's one thing Tiny House Nation knows, it's that all family members – even those with tails and whiskers – need to compromise on space when downsizing their lifestyle.
When square footage is in short supply, fetch-friendly hallways and patches of sun-drenched carpet are often things of the past. In their place are creative solutions that maximize space along with Fido's happiness.
Adapting a tiny home for a dog, cat, bird or even herd of cattle doesn't need to be complicated. Jax and Olive are the canine and feline companions of Tabatha and Sarah, amateur farmers living in a 170-square-foot house on sprawling Wisconsin farmland. Their platform "lounge" sits atop a cozy surprise: a cubbyhole for Jax's crate. With his owners sleeping in loft quarters above the living room, the shepherd dog can doze comfortably beneath the cushioned bench. Olive hit the kitty jackpot with her own bedroom, a compact closet outfitted with a scratching post and bed, along with hooks for human coats. Both animals are free to roam the house but have a designated space when they – or their owners – need it.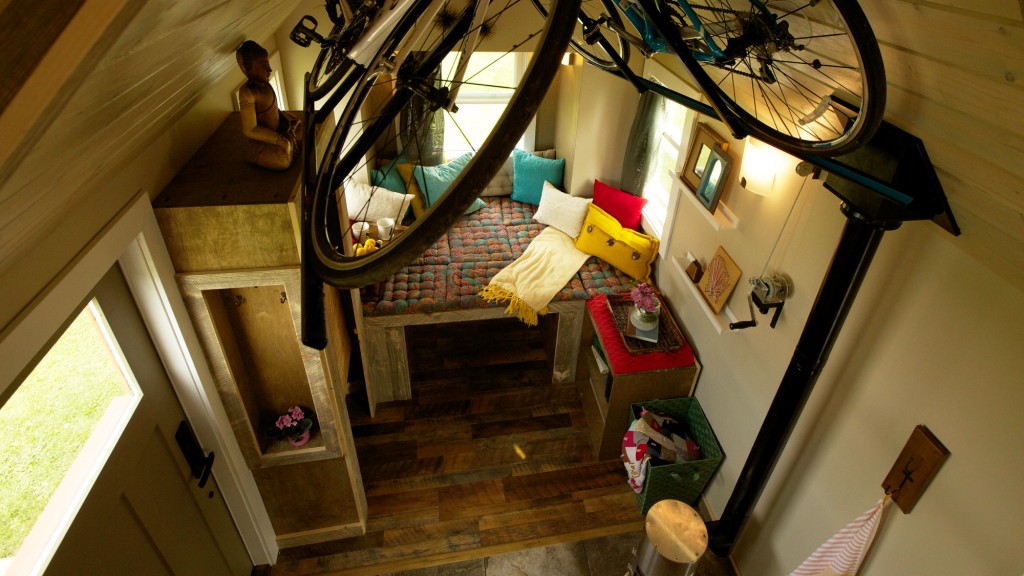 Poker-aficionados Blake and Michelle share their tiny Denver home with Wren, a Jack Russell terrier, and Wrigley, a boxer. Oversized bags of dog food threatened to overtake their limited kitchen space, until THN co-hosts Zach Giffin and John Weisbarth came up with another understated fix. The team fit a cabinet drawer with a plastic bin stocked with canine cuisine, which can be scooped directly into bowls and closed out of sight.
But what's an active dog to do when his owners are at work? When their tiny house was first unveiled, Blake and Michelle were perplexed by a curious furniture piece resembling a medieval torture device. "This needs some explanation," one of the women quipped. Zach's strange genius once again flourished: the dog-operated contraption supplies a solitary game of fetch, releasing a tennis ball when Boxer Wringley tugs a rope pulley.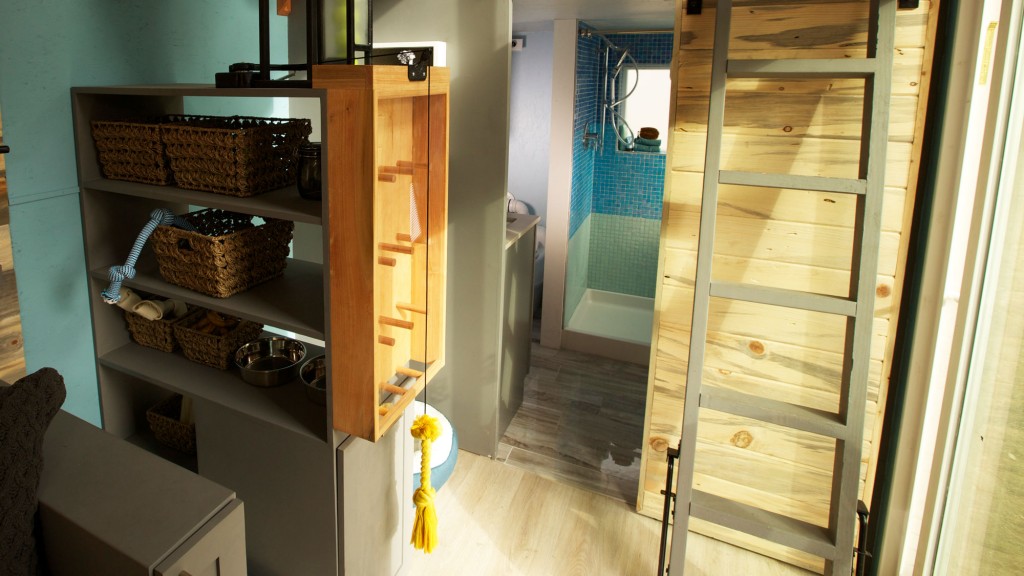 In Mesquite, Texas, Simon and Lindsey worked at the Dallas Zoo before launching a bird training and wildlife education business. Their colleagues – four chickens, an eastern screech owl, a red-tailed hawk, two macaws and a rose-breasted cockatoo – cohabited their spacious two-story rental until the couple decided to transition to a nest-inspired, 287-square-foot space. With the tiny house set on a plot in an 11-acre bird sanctuary, their winged-wildlife have a private residence in a nearby enclosure.
Simon and Lindsey, however, weren't ready to completely cut social ties with the flock. When they asked the THN team to create a welcoming spot for screech owl Pigwidgeon inside the house, Zach delivered. He fashioned a decorative cedar-branch perch to accommodate feathered guests and took care of culinary challenges – or more accurately, sanitation issues – that previously plagued the couple. Rather than establish two separate kitchen locations for human and bird food prep, Zach attached a roll of kraft paper to an antique island. Unroll a sheet across the wooden counter, prepare frozen mice and dinner is served.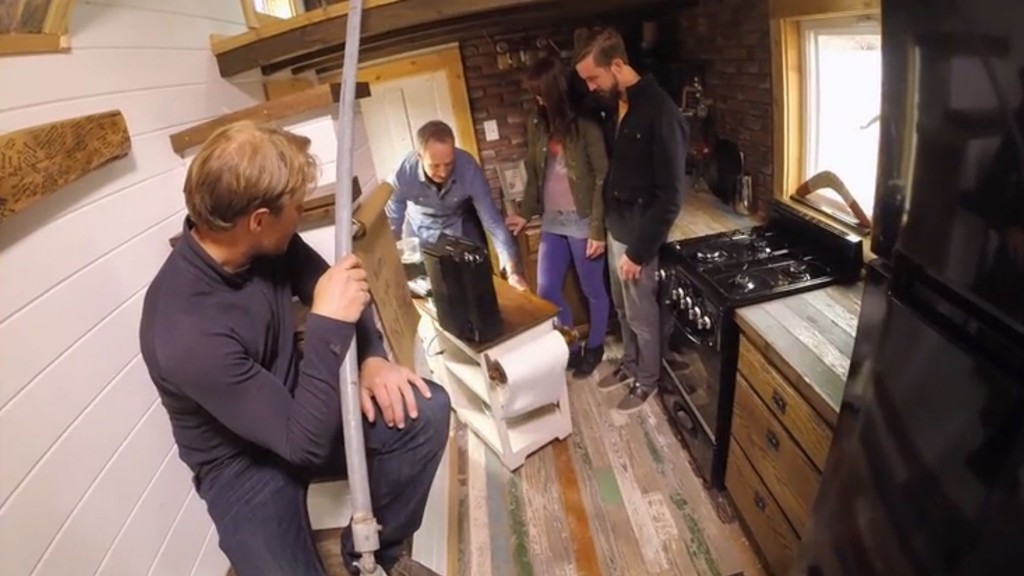 One key to effective tiny-home living is utilizing all available space, something Simon and Lindsey are able to do with their unusual porch, also known as the "perch." The home's interior feels cramped when more than a few birds show up to mingle, so a mechanical drawbridge-style deck lowers just outside the front door with the simple press of a button. This optional floor space provides a bonus area for bird training or sunrise cups of coffee with the menagerie.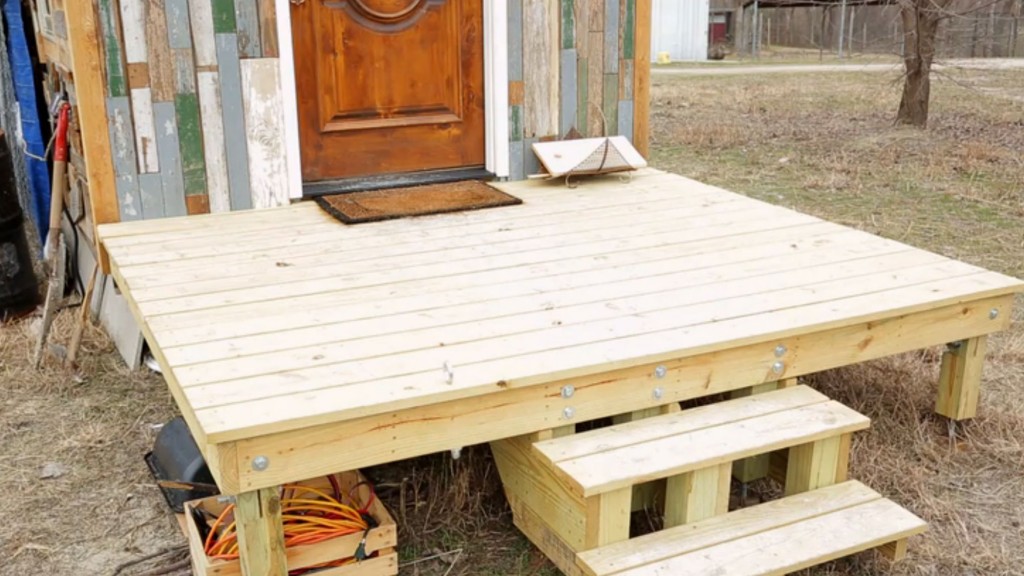 Creating functional space beyond four walls is a tactic employed back at Sarah and Tabatha's tiny farmhouse. Ankle-deep in cow dung at the end of a long day, the pair requested their tiny house plans include a mudroom to prevent boot tracks into the house. "With a house this size, a mud room's not possible," Zach protested. Unable to find the square-footage indoors, he created an attached, refrigerator-sized mud hut, complete with tool and boot storage, a hose and a foldout bench. "What we tried to do is give you the same kind of use… as an entire room." It may be small, but it's big on function. Fido would approve.