In the average house, clutter tends to accumulate over time, but a tiny house can go from immaculate to a complete mess in a matter of seconds. "Even if just a few things are out of place, the house can look like a tornado's gone through it," says Lora Higgins, who lives in a 234-square-foot home in Colorado Springs, Colorado, and is the author of Dream Big, Live Small. Whether or not space is at a premium, reducing the amount of clutter is as much about building good habits as it is about having the right organizing tools. Here are nine tips to stave off clutter, and keep any house tidy.
1. Pare down
The fewer things you own, the less clutter will creep into your life. And while it's fairly easy to ditch an old waffle maker, letting go of other items—like childhood trinkets—can be tougher. Higgins suggests making an initial "must-have" list, then leaving the house for a few hours to whittle down the list once again. "With a little distance, I felt less emotionally attached and had an easier time deciding what to get rid of," she says.
2. Adopt a revolving door policy
Even once you're fully settled in any space, sorting through your belongings should be an ongoing process. Whitney Leigh Morris, who blogs about her family's life in 362 square feet on the Tiny Canal Cottage, makes trips to the donation center twice a month. "Any time we acquire something new, we set aside at least one item to remove from our house," she says. "This has become such a habit for us, it's almost addicting—it feels amazing to downsize and simplify."
3. Pick double-duty items
Multi-purpose pieces are power players in the fight against clutter—think storage ottomans, modular seating, kitchen cabinets with foldaway surfaces, etc. And if you can't find the right piece for your space, have it made. For instance, Higgins had a woodworker friend build a cart for books that converts into a twin bed for any overnight guests.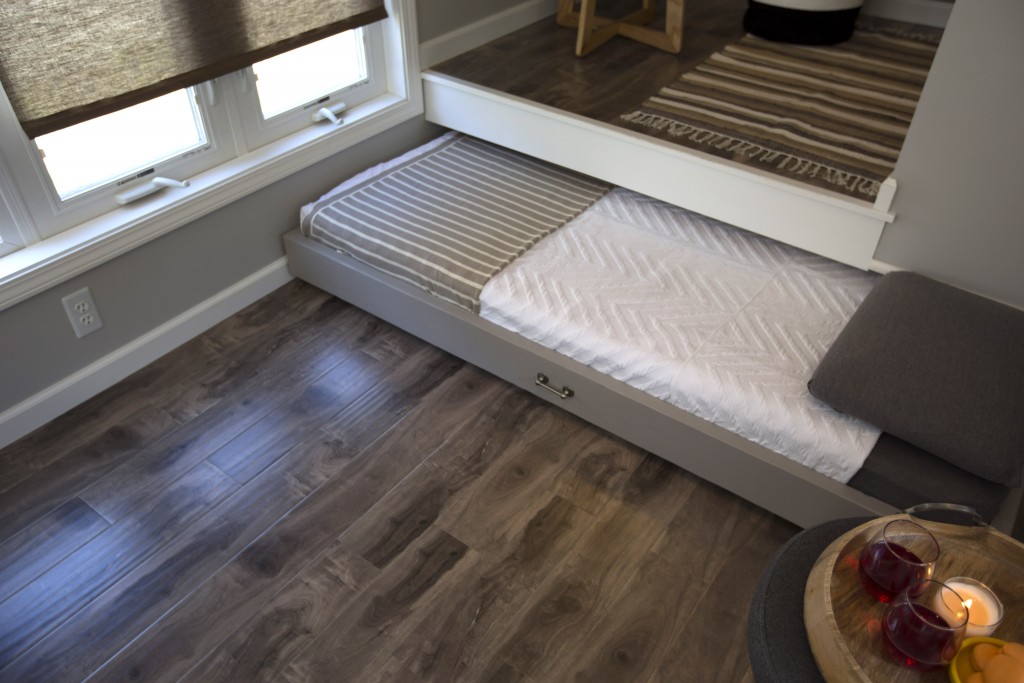 4. Play detective
Take time to track your clutter trouble spots, and then create storage solutions from there. "For items that seem to always end up cluttering the surfaces, it means that they either don't have a clear home or that the space where they ought to live is overcrowded," advises Kyle Quilici, who runs the organizing service New Minimalism with partner Cary Fortin. From there, you can focus on the right storage method, whether it means adding a bin by the door or clearing out a central drawer.
5. Automate good habits
In larger homes, letting belongings fall by the wayside after a long day isn't uncommon, but it can drastically change the atmosphere in a smaller space. "In my old house, I could walk in, put something on the counter temporarily and put it away whenever I got to it," says Higgins. "But my tiny house looks instantly cluttered if I do that." So try to make a point of putting things in their rightful place when you walk in the door—the beauty of a tiny home is that you don't have to walk far to do that.
6. Work the walls
In a home with a small footprint, cleverly utilizing vertical space can go a long way towards reducing clutter. Opportunities for making use of that space are everywhere, says Quilici—hang narrow shelves on the inside doors of kitchen cabinets, tuck cubbies under stairs, hang hooks on empty space on your wall. And remember, the less you use an item, the higher you should stow it—photo albums and books, for example, can be tucked away on high shelves.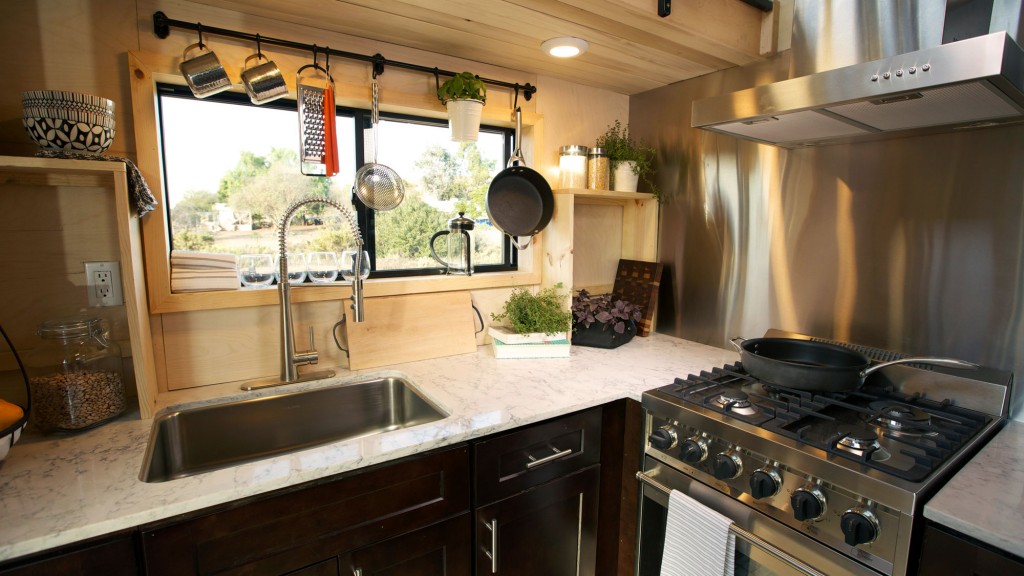 7. Digitize your life
In today's digital era, there's no reason paper should pile up in your home. Digitize as many bills as you can (and feel comfortable with); if you need a paper trail for personal or business reasons, consider a mobile scanner, recommends Leigh. Once a week, she scans any cards or receipts she wants to keep. "I have no need for folders, trays or boxes," she says. "A tool the size of a ruler prevents me from accumulating piles of paper."
8. Shop with a purpose
Window-shopping can be a sure path to clutter. "I used to walk through stores all the time and wind up getting some pillow or basket just because it was cute," says Higgins. Now she only visits a store to buy something if she's fully considered how she'll use it and where it will fit into her home.
9. Embrace Form and Function
Living clutter-free doesn't mean giving up on décor, it just you have to make your home essentials work harder. "I used to have so many bookends, random trinkets, funky vintage figures that were just collecting dust," says Leigh. Now, she livens up her home with functional décor, like handmade cutting boards and plants (which do the valuable work of cleaning indoor air).