As America becomes an increasingly diverse nation, it's no surprise that interracial marriage rates are on the rise.
Today, there are 5.3 million interracial or interethnic marriages in the U.S. But according to a 2012 study by the Pew Research Center, the real growth is definitely among those who've recently tied the knot. In 2010, 15 percent of all newlywed couples included spouses of different races—that's double the rate of new interracial marriages in 1980.
So what's the likelihood that that you might intermarry? Well, it seems to depend in large part on three factors:
Your race…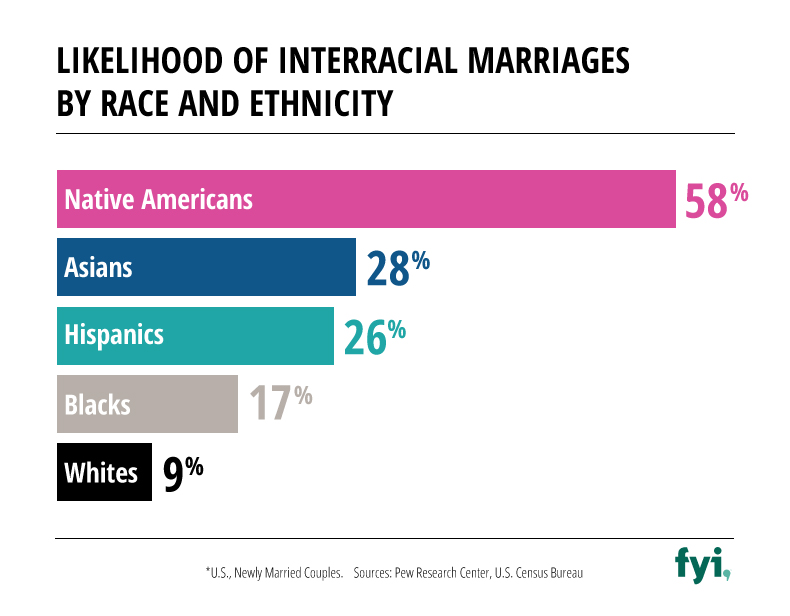 Although only 9 percent of whites intermarry, their large demographic means a majority of interracial marriages include a white spouse. Which begs the question, what are the most popular interracial couple combos in the U.S.?
According to the study, white/Hispanic couples are the most common combo, with non-white mixed couples coming in as the second most popular interracial combination.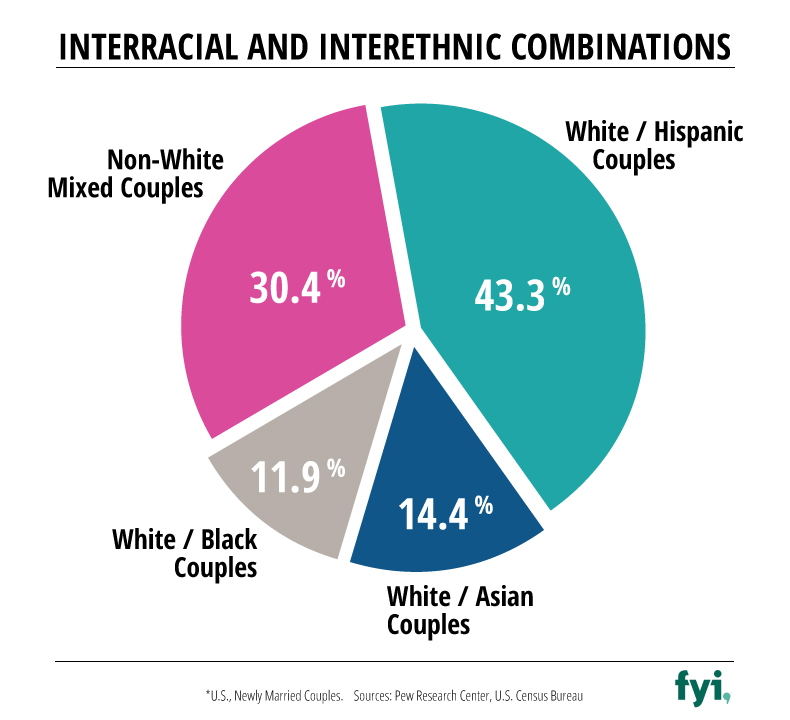 …your gender…
If you're a white, Hispanic or Native American male or female, the tendency to marry another race is pretty even across the board. But, for other racial groups, it's a totally different story. Asian women are twice as likely to pick a partner of another race as compared to Asian men, and the opposite is true for blacks, where men are more than twice as likely to marry outside of the race as black women.
…and where you live!
Your zip code seems to play a big role here. It turns out America's western region (long a racial and ethnic melting pot) leads the way in interracial marriage. Basically, you are more likely to intermarry if you live west of the Mississippi River. In fact in more than eight western states, 20 percent of all new marriages are interracial. And if you're lucky enough to live all the way over in Hawaii, there's a 4 in 10 chance you'll marry someone of a different race. The flip side seems to be true in the Midwest, where only 11 percent of all new marriages are interracial or interethnic. And although southern states still see a low overall percentage of intermarriage, the most common interracial couple in this region is now black and white.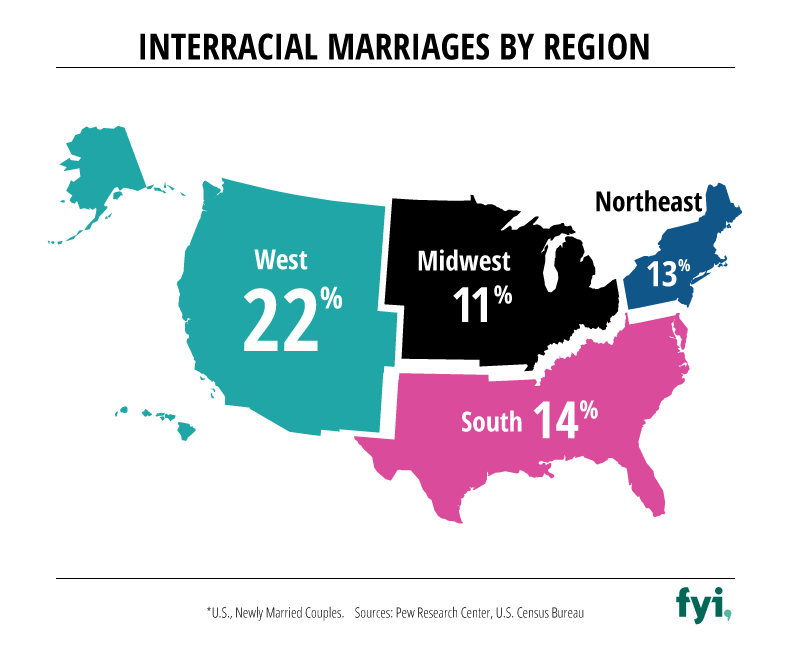 The rise in interracial marriage is kind of fascinating when you realize that until 1967 (and the Supreme Court decision in Loving v. Virginia), marriages between black and white Americans were illegal in 16 states. As more Americans report having relatives who've intermarried, overall acceptance and support for interracial marriage has increased dramatically. Today, 63 percent would be fine with a family member marrying outside of their race, and more than 4 in 10 Americans believe interracial marriage is a change for the better, a great wedding gift to the millions of interracial couples about to tie the knot.
Interested on how modern-day couples are dealing with interfaith, interracial or same-sex issues? Check out the new series Bride & Prejudice, premiering Tuesday, March 15 at 9/8c on FYI to see how three couples face adversity from family as they get ready for marriage.